ByAllAccounts Webinar: Advising on healthcare in a rapidly changing market: Help your clients plan for the unexpected
Published 3/26/14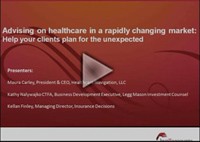 Get the facts on the Affordable Care Act, Medicare, and Long Term Care; including products that are available. Hear real life client examples from one advisor and the solutions she developed.
Presenters:
Maura Carley, President & CEO, Healthcare Navigation, LLC

Kathy Nalywajko, Business Development Executive, Legg Mason Investment Council

Kellan Finley, Managing Director, Insurance Decisions
Click here to view the webinar.